"Investigation Station", connections of individuals and companies investigation.
AnalyticSoftLab offers complete solution " Investigation Station", aimed at meeting the requirements of corporate policy "Know your customer» (KYC), «Know your employee" and "Know your partner."
This means a comprehensive study of individuals and legal entities, all their explicit and covert interconnections with visual representation of relations between system's objects. Data on individuals and legal entities, reports, data on customers, employees and partners, criminal or administrative offense, property of any kind, "black lists" etc. may be sources of information.
The solution allows to:
receive complete and reliableevaluation of customers during theircredit products subscription period;
quickly and qualitatively assess the candidates for the vacant position and company's employeesreputation and trustworthiness;
identify conflict of interests between company and employees;
determine alternative sources of repayment of bad debts;
conduct remote inspection of business partners and contractors reputation, identify and verify data on different objects – banks, individuals and legal entities – and determine their business environment reputation.
Solution's basic functions:
Objects creating, editing and deleting, including their connections;
Database objects search based on properties or properties set of related object;
objects' connectivity graph with flexible settings and editing opportunity;
Revision history of changes in an object's properties;
Reporting on anobject;
Automated or automatic data loading;
Managing connections' typology and additional attributes.
Main advantages:
Data storaging and processing on a client side;
Large number of databases integrated;
Data storage expansion with new objects and connection types;
Fast and flexible object search;
Advanced visualization tools of connections between objects;
Storing the history of object's data changes;
Easy innegrate to API;
Hi-end solution with no domestic analogues at competitive local price.
Object's connectivity graph: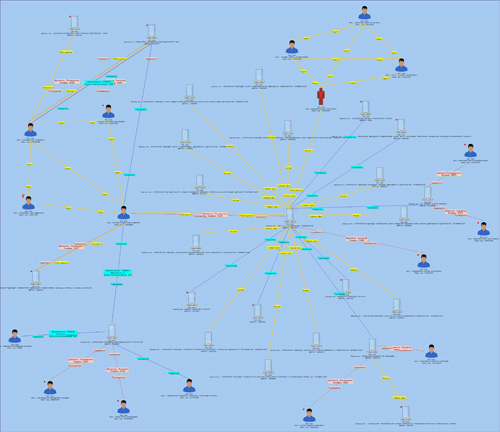 "Investigation Station" is often used with anothersolution "WebObserver", that complements data with information from external information environment: Internet, file archives, etc. This combination allows real time investigation of the situation around the object.
For more details please check out presentation of the product or contact us by:
Presentation in PDF here: Download
Presentation in PPS here: Download
Other software products:
Software development:
object and automation process business analysis
task setting on software development
models of interaction and object models designing
database engineering
engineering and user interface (UI) designing
software testing
software support and maintaining